Yuliia's story – Immigration and Qlick
At Qlick, our team worked very hard to help Yuliia find a job as a Frontend Software Engineer in Amsterdam. Read all about her experiences with Qlick and her move to Amsterdam in this blog!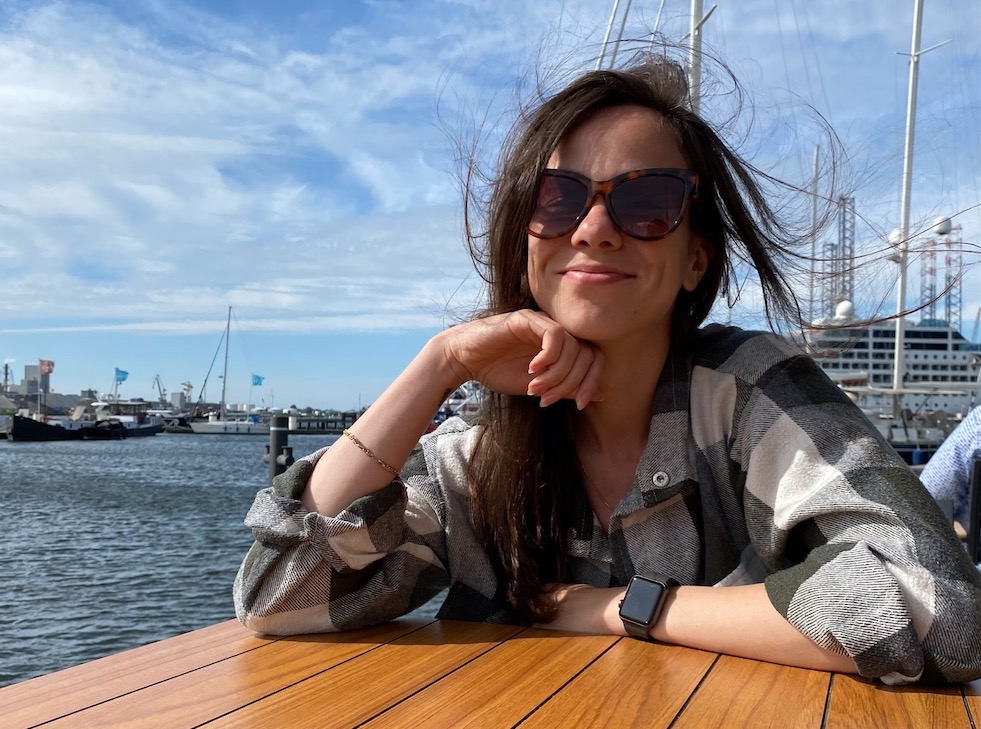 Yuliia is originally from Kharkiv, Ukraine. She moved to Amsterdam with her husband Ilia and their cat Siri. Her passions are traveling to explore different countries and cultures. Besides that, she plays the guitar and adores painting in her free time.
We hope you enjoy reading about her experience with Qlick and her immigration story!
Why did you become a software engineer?
My elder brother works as a software developer, so he has been an excellent example for me. I was always good at math in school, so when it was time to choose which university to attend, I decided to choose National Technical University "Kharkiv Polytechnic Institute" to study computer science there. The course was demanding but interesting, challenging, and fun. After that, I got my first internship in an IT company, which lasted three months. I started my first job and realized this is exactly what I want to do for a living. I had even played guitar in a cover band before that. I was a part of the music band for half a year but shortly moved into software development, which is my real passion.
What attracted you to Amsterdam, and why did you decide you wanted to work and live here?

My husband and I visited Amsterdam three years ago, and after that vacation, we knew we eventually wanted to move and live here. I was charmed by the city from first sight. All the streets and canals, buildings, and areas near the houses were so quiet, and I felt like I was in a fairytale. The warm light from the windows was so cozy. I was outside, but I felt this warmness inside, and I wanted to be part of it. People were so kind and welcoming as well. All smiling and everyone spoke English, that was very surprising to me. It was the first country I had been to where local people could speak English so well. So after that, I didn't have any other choice but to work hard, find a great job, and move to beautiful Amsterdam.
How did Qlick help you with your search for a job and your move to the Netherlands?
The consultant from Qlick, Frank, reached out to me via LinkedIn about a frontend position at Rebels BV, the company I am currently working at. After multiple interviews with my new colleagues from Rebels and Qlick, I decided to go for it. Via Qlick I had the chance to start working remotely ahead of the visa approval, so before I arrived in the Netherlands, I knew that the job I moved to Amsterdam for would meet my expectations.
The hardest part for me was finding out about all the questions related to the documents. I had a call with Karen from Qlick, who helped me a lot with that. It was my first experience working outside Ukraine, so I had many questions about processes, contracts, and documents. I was scared a bit, and Karen told me one thing: "I know that it's tough to believe people who you see for the first time, but believe me, everything will be good." And I believed her. After that, I had a great conversation with Marc, who is also from Qlick, and he helped me arrange everything with the remote contract and payments. It was my first experience working remotely for a company, and it was entirely successful due to the support of people from Qlick.
Was it difficult to bring your cat with you to the Netherlands?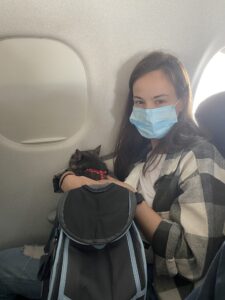 My cat's name is Siri, like Siri from the iPhone, and it was quite challenging to do but better than I expected. The first thing is that collecting all of the documents was not the easiest part, which took a lot of time. And of course, the most important was the transportation by train and then by plane. Siri was very stressed about everything. Because she was never outside our flat in Ukraine and this was her first long trip, it was hard for her. After a couple of days, she got used to the new place in Amsterdam, and now Siri feels very comfortable. She also got the courage to go outside the flat and to meet her new neighbors.
You are working as a Frontend Software Engineer. What makes Amsterdam an attractive place for you to work as a software developer on a professional level? Do you experience differences working in another cultural environment?
A new project is always an excellent opportunity to learn more and to meet new people. Especially here in Amsterdam, I'm working in a multinational team with different people from different countries. It helps me develop myself as a person at first, expand my personal boundaries, explore different cultures, and learn new languages. And in a professional atmosphere, there are many opportunities to grow; you don't have borders. You are free to suggest new things, try new technologies, and learn new features from teammates. Maybe I'm just lucky to have such a project, but anyway, Amsterdam is an incredible city with a unique vibe and many young and talented people who make it full of opportunities.
What was the process like to obtain Dutch residency and a work visa?
To be able to immigrate to the Netherlands for work, you need a Highly Skilled Migrant visa. You need to have a job offer from a company in the Netherlands that has a Recognized Sponsor status at the IND (Dutch Immigration Services).
After your Sponsor successfully submits your visa application, you will get an appointment to go to the Embassy. In my case, I went to Kiev, 470 kilometers from my hometown. Handling everything there took about an hour. My passport with the entry visa was ready a few days later. The entry visa gives you a three-month entry window. In the Netherlands, we received our residency and work visa cards.
It was hard and easy at the same time. Hard because I have never experienced a visa application process before, and of course, I was worried about everything. I had a long journey with an evaluation of my documents in Ukraine. It took about four months from the day I got the offer until I landed at Schiphol Airport. But, it was easy because I had great support in the Netherlands from the people who were waiting for me in Amsterdam. All this time, I was communicating with Karen from Qlick, and she was controlling the process of visa formalization in IND, so I was sure that everything would be great. Without this support, I can't imagine what this process could be.
Is it challenging to find a rental apartment in Amsterdam?
Right now, I'm temporarily renting out my colleague's apartment located in the city center near the canals for a couple of months. And it is a really excellent starting point. This gives me a lot of time to explore the city and find a really nice place to live.
It can be a challenge to find an apartment since Amsterdam is a popular city to live in, and apartments in the city center are expensive. Quality apartments are taken in a second, so you need to be patient and strike fast when you find an apartment you like.
There are several websites you can use to find a rental apartment. Most of the available apartments will be either immediately available or in a few weeks. Security deposits are usually equal to 1 or 2 months' rent. In Amsterdam, you will mainly find unfurnished apartments; however, it is possible to find a furnished apartment like I did.
To give you an idea of what you need to cover the rent of an apartment and the utilities in Amsterdam, Numbeo puts the average cost of rent for an unfurnished single bedroom apartment in the center of Amsterdam at € 1.550. If you would like to rent a (semi) furnished apartment, your rent will be higher.
Due to their central location areas such as the city center of Amsterdam with its beautiful canals (de Grachtengordel), the Pijp, Oud-Zuid, or Oud-West will easily be more expensive.
In case you are open to the suburbs of Amsterdam, properties can be found with a lower rent.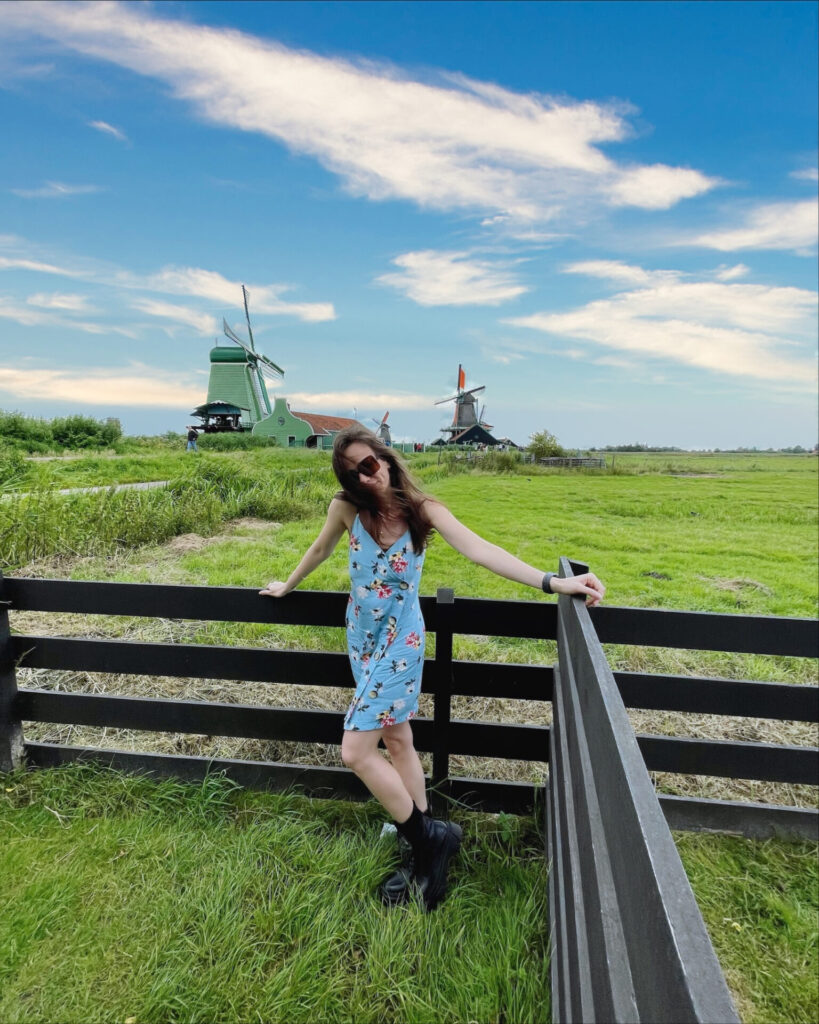 What is the average software developer's salary in Amsterdam?
Depending on experience, the salaries of a developer are usually above €45.000 per year.
How does the 30% tax ruling for expats affect your salary?
Since I was recruited from abroad and skilled IT specialists are scarce in the Netherlands, my employer applied for the 30% ruling for me. This means I have to pay fewer taxes. Besides this, I can also exchange my Ukrainian driver's license for a Dutch one.
The 30% ruling is a tax advantage for highly skilled migrants moving to the Netherlands for a specific employment role. When the necessary conditions are met, the employer can grant a tax-free allowance equivalent to 30% of the gross salary subject to Dutch payroll tax. In order to be eligible for the 30% ruling, you have to be in an employment situation. For those who work as self-employed, it is not possible to claim the 30% ruling.
Want to learn how Qlick can help?
Are you interested to find a job in the Netherlands and immigrate to Amsterdam like Yuliia? Contact us to learn how Qlick can help you.